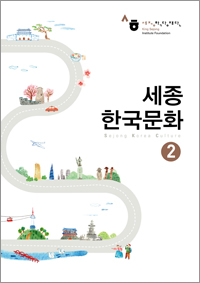 Sejong Korea Culture 2 (English ver.) (세종 한국 문화 2)
Author : King Sejong Institue Foundation
Book page : 144 pages
Supplement :
About This Book
A textbook developed for learners to understand Korean culture following their language proficiency
Sejong Korea Culture 2 is a textbook to understand culture based on the relevant categories covered in the Sejong Korean, helping learners understand the country, its culture and eventually the general cultural aspects needed to learn the language. This book is designed for beginners in Korean to compare and experience Korean culture with those of their own countries from various aspects. Through such comparisons and experiences, learners are expected to improve the understanding of Korea and further build up the knowledge of cultural background needed to learn the language; this is a customized textbook for such purpose. It can be used at formal educational institutes including King Sejong Institute both as a regular textbook or a teaching aid. In addition it is a supplementary textbook that can be tailored for different learners as they want self-study to better understand Korean culture.

▪ The very textbook for Korean culture at the King Sejong Institute
Sejong Korean Culture is a textbook created by the King Sejong Institute, a provider of Korean language education to the people around the world specifically to teach Korean culture. The King Sejong Institute Foundation has developed it after designing and thoroughly examining the contents.

▪ A textbook to learn Korean culture, customized for the language proficiency of learners
While this book is based on the cultural categories covered in Sejong Korean, it expands the cultural section that has been only a part of language education into an independent subject of education; thus learners can study Korean culture according to their Korean language proficiency, improving the understanding of the culture and the country.

▪ A comprehensive textbook to learn culture, covering both traditional and contemporary aspects
When people say Korean culture, they tend to think of the categories of traditional culture. However, this book also addresses diverse contemporary aspects of Korean culture together with general aspects of real life in Korea for foreigners. By doing so, it can serve as a textbook to learn culture, promoting how Koreans actually live in this country to the world.

Book Series

Price : KRW 13,000



If you want to buy our Korean Language Books, or have any questions, please send an
email to : WEBMASTER@DARAKWON.CO.KR
We will reply to you as soon as possible. |
개인정보처리방침